KaraFun Player
Il lettore karaoke gratuito più scaricato in assoluto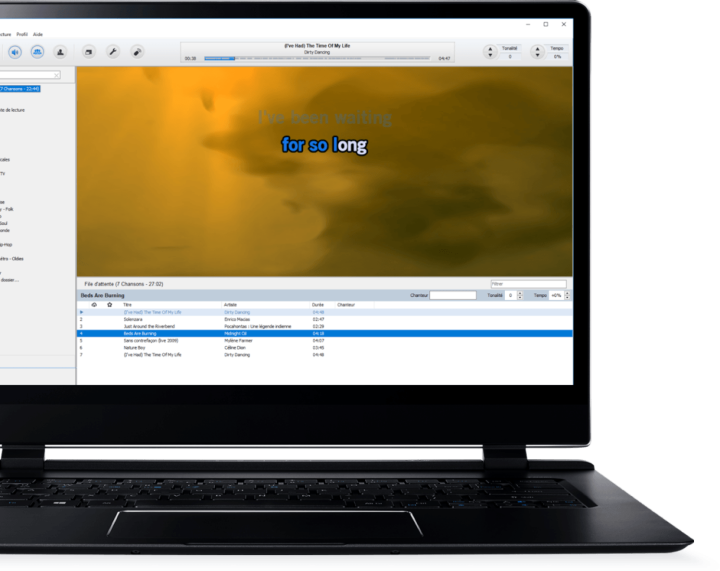 37,000 songs included
Incluso in KaraFun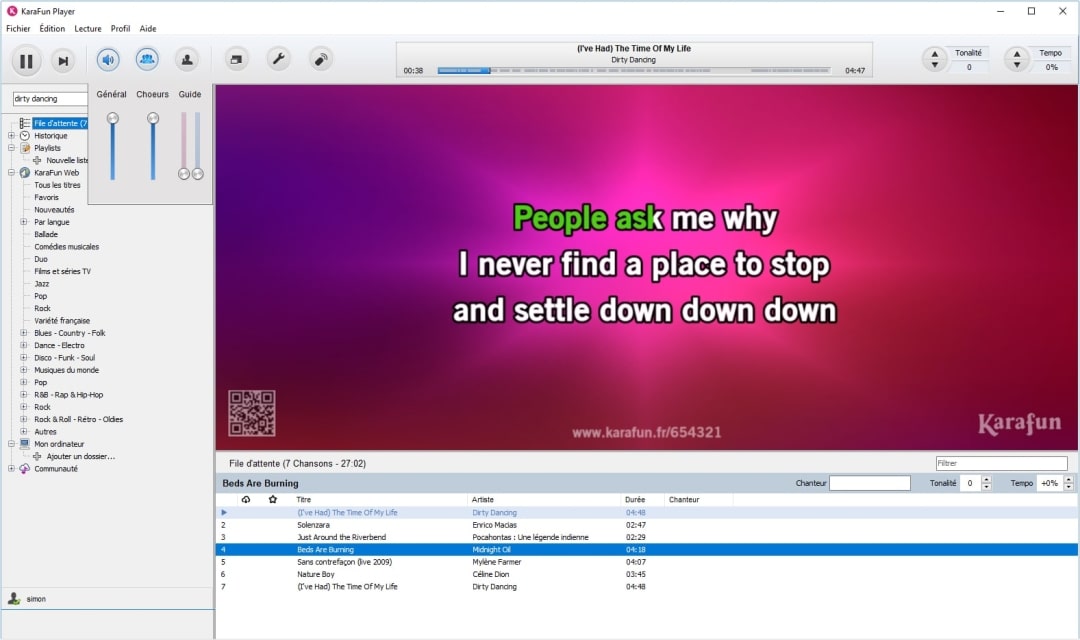 Caratteristiche principali
37,000 brani in qualità studio
KaraFun dispone di un catalogo di 37,000 canzoni karaoke registrate in studio professionale. Il tuo pc diventa immediatamente lo strumento ideale per il karaoke !
Visulizzazione doppio schermo
Un semplice clic permette di attivare una finestra karaoke supplementare, che potrai spostare sulla TV o sul videproiettore.
Sincronizzazione offline
Weekend in un paesino sperduto ? KaraFun ti segue anche li ! Sincronizza i brani che preferisci prima della partenza e che la festa continui !
Tonalità & tempo personalizzati
Personalizza la tonalità e il tempo di qualsiasi brano del nostro catalogo per adattarlo perfettamente a chi canta !
I tuoi preferiti
Perfetto, hai trovato i karaoke che fanno per te, ma hai bisogno di poterli ritrovare facilmente quando ne avrai bisogno. Basta aggiungerli ai tuoi preferiti : il posto perfetto per tutti i tuoi brani preferiti, che ti permette di ritrovarli anche in modalità offline.
Agile
KaraFun legge la maggior parte dei file karaoke, sia che utilizziate i brani inclusi nell'abbonamento o i vostri CD+G, MPEG, KAR, MID, e altro ancora !
Starting Guide
Want even more features?
This part is for you!
Versioning notes
Versione 2.6.1.1
You can now easily ask the singer's name from the Remote preferences, making it easier than ever.
This version also takes the community catalog display preference into account.


'tis the season... of singing! KaraFun Player has been improved, and should take all the pesky bugs for a Sleigh ride.
Gimme a K. Gimme a A...

This time for good, missing offline files are back in the field. Ready. Steady. Sing!
Here comes the sun (said George)! Here comes KaraFun Player fit and tanned for the summer (could've said George). After a few weeks in the work, our most popular app has put on the swimsuit for some serious Binge Singing by the pool!

=== NEW FEATURES ===

• Long Live the Remote, allowing you and your guests to send their karaoke requests without moving from the barbecue (or the pool, if you're lucky)!

=== IMPROVEMENTS ===

• Performance improvements (it's a large family, and we can't introduce all the members here).
• Improved position of the logo onscreen.
• Now displays the total length of local files if available.
• Standby screen now shows up on Community uploaded CDG files.

=== BUGFIX ===

• Offline Sync should now be more resilient and stable (aka. your offline files are not going on impromptu holidays anymore).

Happy Sunny Summer!